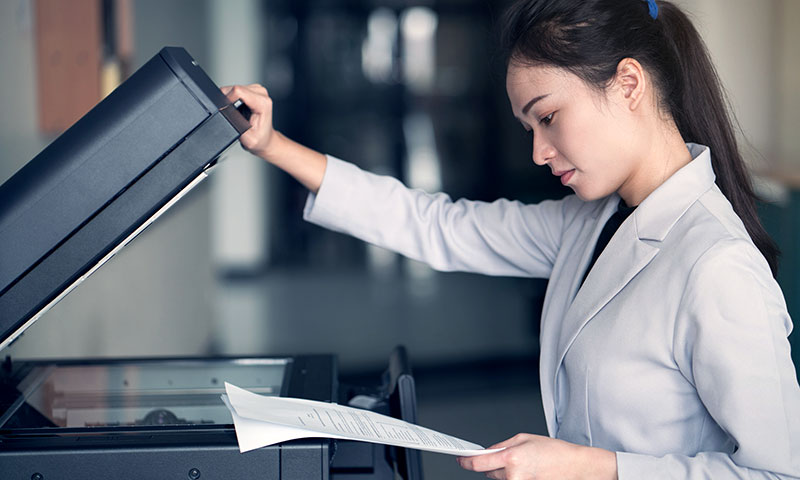 How can a copier handle multiple tasks at once? Copiers are no longer just about making copies of documents anymore. With technological advances, printers and copiers can now do more than what their name states. Multi-function copiers can perform a range of tasks. These tasks will include copying, printing, binding, faxing and scanning. The reasons for all of these tasks being placed into one machine include increased efficiency and less storage space being needed.
Printing
For decades, people have been using printers to make documents in the workplace. Today, there are many different kinds of printers that you can get from laser printers to inkjet printers. Of course multifunction printers are also available which allow you to do more than just printing. Of course, you will want to make sure that you print needs are taken care of. Multifunction printers and copiers will be available with colour printing and monochrome printing.
Copying
Copiers are machines that people will usually link copying to. However, you can now get copiers that can do more than just copy. Scaling copies is something that most modern copiers can do. To do this, the copier will have built-in settings that allows you to set the size of the page that you want the copy on. This can range from A4 to A1. A lot of copiers will also be able to turn the page over to use both sides of the page.
Faxing
Having a phone that also serves as a fax machine is something that most companies used to have. The problem with this was that if someone was making a phone call, and another person had to send a fax, he or she had to wait. Having a copier that is also a fax machine can take some of the pressure off. These machines will be linked to the phone line, but not the business phone. This means that someone can send a fax while someone else is on the phone.
Binding
Some offices need to create bound documents, and a binding machine is something to look at. However, not all offices will have the space to have a binding machine. Certain multifunction copiers will come with a binding facility in them. This can be helpful because once the printing is done, the binding can be done. Additionally, there will be no need for additional space for the binding machine. A lot of these binding functions will be for ring binding, which can look professional but it is not difficult to do.
Scanning
The technological age today involves scanning, and it is a function that businesses need. A lot of companies find it easier to do certain tasks online and communicate with them through emails. This is when you need a multifunction printer or copier that has a scanning facility. With this facility, you can scan documents that need to be emailed to people. You can also scan documents that need to be kept but you are unable to keep the original ones in your office.
Most multifunction copiers will be able to do these 5 tasks at once. Copying, faxing, printing, binding and scanning are the five tasks that can be done with just one machine. You need to make sure that the copier or print that you want to own has all of these features because not all copiers or printers can do them.
If you are in Memphis and you are looking for a Copier for your business, you may contact Clear Choice Technical Services in Memphis. You can ask about Copier Leasing Services in Memphis, Copier rental services in Memphis, and Copier Repair Services in Memphis.