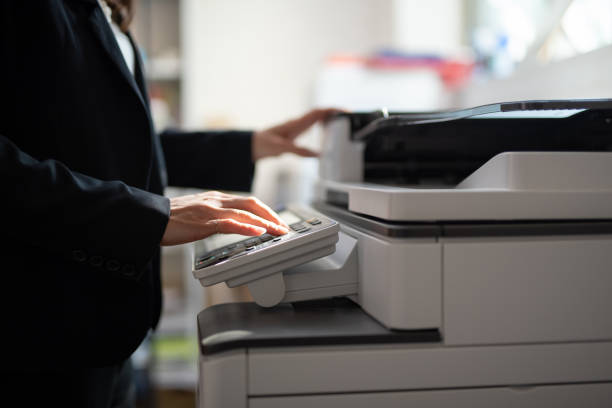 Ricoh ushers in a new generation for a modern business with the ultra-effective line of Multifunction Products. The MP C5503 has a combination of copying, scanning, printing and faxing technology with advanced and versatile management and organization solutions to revolutionize the potential of your company.
Efficiency is redefined with this printer's compact design, user-friendly controls, all-inclusive functionality, and environmentally conscious consumption reduction measures. Customizable software options streamline workflow according to the specific needs of your office. The smart system of the C5503 is made to integrate the most advanced technology today, so sharing and digital distribution are at your fingertips. With the Ricoh C5503, maximizing productivity is intuitive. Ricoh also makes a clear statement with the C5503.
The C5503 is a powerful, compact multifunction printer with a powerful ample RAM and processor. The Ricoh C5503 MFP can help meet your high-speed challenges while giving outstanding color capabilities. You can keep your projects moving with a standard 220-sheet SPDF or single pass document feeder and simultaneously scan both sides of a two-sided original in a single pass. The MP C5503 is packed with energy-saving features and has a quiet and compact design that is ideal for mid-sized offices with heavy workloads.
You can print up to 55 pages per minute for black and white documents and you can also print full-color documents at a lightning-fast pace. It comes with a 220-sheet single pass document feeder and it can scan 180 items per minute, so hyper-efficient duplex scanning is the standard.
The printer has animated displays and LED light guides that allow a hassle-free user troubleshooting. The optional built-in web browser feature integrates the latest in cloud technology into your office. You can print from your tablet, smartphone, a laptop without the hassle of device-specific drivers.
The printer comes with an optional Adobe PostScript 3 display driver that adds even greater capabilities that you can customize to the standard preset one-click interface system. Advanced graphics options including the Fiery Controller, can give graphic designers the freedom to create and to print without limits, right from the office.
The printer comes with a standard full 9-inch colored control panel with USB/SD slots and features that can be customized. The features are also user-friendly as well as the interface, allowing you to have quick access to the common tasks, search options, PDF and more.
You can enjoy features like URL/Scan-to-Email/FTP/Folder, USB/SD scanning, amazing and flawless image compression and centralized Distributed Scan Management system that inspire seamless collaboration in the office. The fade-proof and vivid color prints potently and rapidly, even on thick paper. The complex tasks feel simple with the streamlined interface features and the space-conscious physical design.
Authorization, encryption and access control capabilities give second-nature security. You can receive updates on toner levels, monitor and manage group output or individual output and you can reduce overall waste through extensive administrative controls.
The Ricoh MP C5503 printer is made to work the way that you do. It combines the high-quality, full-color output with capabilities that can enhance productivity so you can leverage a wider range of information in newer and smarter ways. You can transform your MFP into an information portal by connecting to the cloud form your table, smartphone or other mobile device and you can use these powerful systems to print, share and discover the value and advantage of customized convenience.
The printer is packed with advanced versatility and energy-saving features in a space-saving design that is great for fast-paced offices with heavy workloads. You can choose it as the main system for your workgroup or as an integral part of the Ricoh Managed Document Services or MDS strategy and boost productivity throughout your organization.
If you wish to have copiers for your office, you can opt for a copier lease. Copier leasing in Memphis can help you get the copier that you want. You can copier leasing services in Memphis for details.